Welcome to the help section
Administrative Activities
Supplier Administrator Activities
The Integration center will provide you with a User ID and password to initially log in. Supplier should change their password with a secured password, we recommend using an alpha numeric combination.
The Supplier administrator can add users to manage all or portions of the portal process via security roles (Hover over the Admin tab to display dropdown menu).
The Supplier administrator is responsible with providing the names, contact information, and security role of the user to be added.

Supplier Notification Emails
The Supplier Administrator is responsible to provide the Integration Center with all the Portal users' email addresses who need to receive the daily supplier email notifications. These email notifications provide all PO tasks that are required of your Company. Supplier Notification emails are sent (1) once a day at 9:30 AM Eastern Standard Time, Monday through Friday. Notifications are not sent on Weekends. The email provides direct links into the Supplier Order Management Portal to manage the tasks.
If there is more than one vendor record setup for your Company, only the Supplier Admin's primary vendor record will contain the email addresses of who will receive these Supplier Notification emails.
If other end users within the Company need to receive the Supplier Notification emails, the Supplier Administrator is responsible to add any additional email addresses via navigating to Master Supplier Data>Supplier Address book. Here the Supplier Admin can add/modify/delete email address under the Company Email Box field. Multiple emails can be added, separated by commas. At least one email address must exist. The emails addresses that the notification email is sent to are listed at the bottom of the Supplier Notification emails for reference. Click here to jump to the Master Supplier Data> Supplier Address book help section.
The Supplier Administrator is responsible for keeping these email addresses current along with their User's Portal access (work with users screen) and Supplier Contacts (Master Supplier Data> Contact Update). Click here to jump to the Master Supplier Data> Supplier Contact Update help section.
IMPORTANT NOTE: All vendor record accounts that are setup for your Company (or family of Companies) will see each other's purchase orders.
Ship From Location (For Collect Suppliers Only)
Along with setting up all the vendor record(s) for your Company (or your family of Companies) for Portal access, the Integration Center also adds all your Company's Ship From locations to your setup. All users that have access for your Company's setup (or your family of Companies), into the Portal, will see all of these Ship From address locations listed within the portal.

User Authorization Type: Use the drop down to select the security role for the user.
Customer Service Role: Access to all except Admin Screens
Accounts Receivable Role: Invoicing and PO Inquiry screens
Customer Service PO Role: PO Inquiry & Acknowledgement
Sales Rep PO Inquiry: PO Inquiry only
Customer Service PO & Transportation Role: PO Inquiry, PO Acknowledgement & Transportation screens.
Transportation Role: (US Domestic & European) Transportation screens only.
Transportation Mfg Rep Role: Contact Integration Center if special security is needed for your separate manufacturing location representatives
Supplier Administrator Role: Access to all screens.
​User ID: User ID should be First Initial + Last Name (i.e. John Doe is JDoe)
Password: Assign a password for the individual (alpha numeric combination is recommended)
Confirm Password: Re-key the password entered in the previous field
Name: Name of the User
Email: Email address of the User
Phone: Optional alphanumeric field, please use an extension if applicable, up to 15 characters
Click Add User to submit. User will automatically receive an email with their login credentials and a link to the Site, this email will be from strategic.procurement@amway.com.
NOTE: Supplier Administrators – it is your responsibility to maintain user's information, authorization types, removal and additions. Accuracy of this information is your responsibility. It is also the responsibility of the Supplier Admin to maintain Supplier Address Book data & Contacts under Master Supplier Data. Click here to jump to Master Supplier Data help section.​
IMPORTANT NOTE: If you are an International Supplier and use the European Date format of DD/MM/YYYY instead of the defaulted U.S. Date format of MM/DD/YYYY, make sure you and all other Users edit your profile to change the data format.** Add/Edit Users does not allow you to select/change the date format, this must be done in the users' Profile.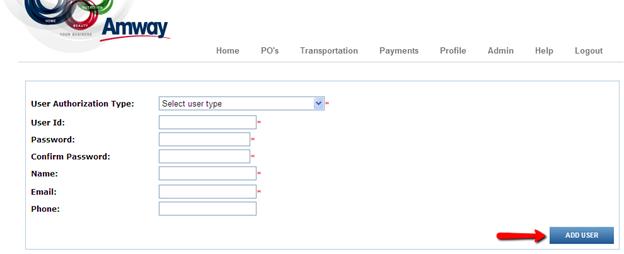 Work with Users
Selecting Work with users allows you to see all users currently setup under your account. NOTE: you will not see yourself listed as the Supplier Administrator. You will see any other Supplier Administrators that have been setup (if applicable) and all the users that you as the Supplier Administrator have setup.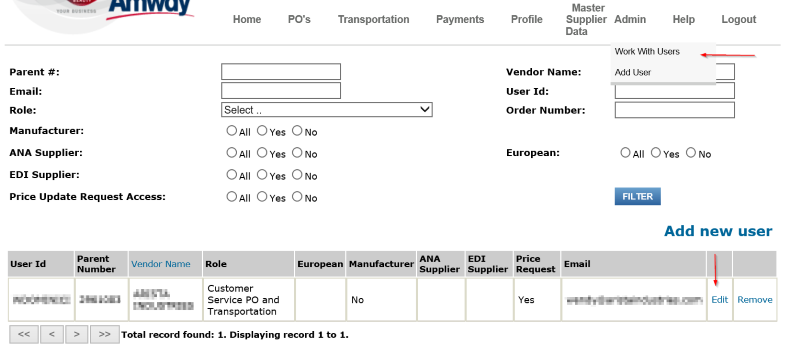 Click on the Edit button to modify a current user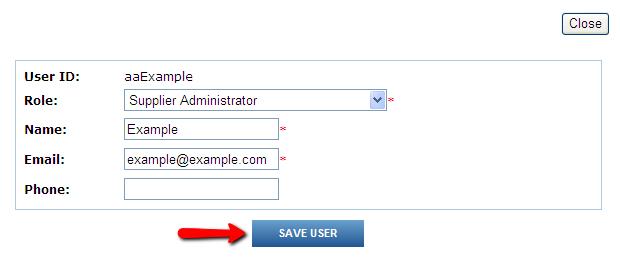 Click Save User to update the record

Click on the Remove button to remove an individual's access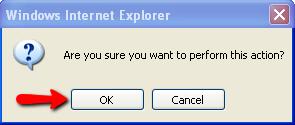 Click OK if you wish to remove this individual