Welcome to the help section
Invoice/ Payment Inquiry:
In the Payment Inquiry, the user has the ability to check invoice status.
From the home screen select Payment Inquiry under My Daily Tasks.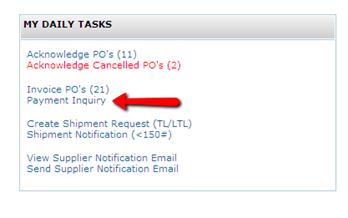 OR navigate to Payments from the Top Link bar and select Invoice Status.

All pending and paid invoices will be listed on the Payment Inquiry. User can search for invoices by a specific invoice number or an invoice date range and selecting Find Payments.
User can view the status of the individual invoices on the far right side of the screen and other information pertaining to the invoice.
* Any blue column heading is sortable by ascending or descending order.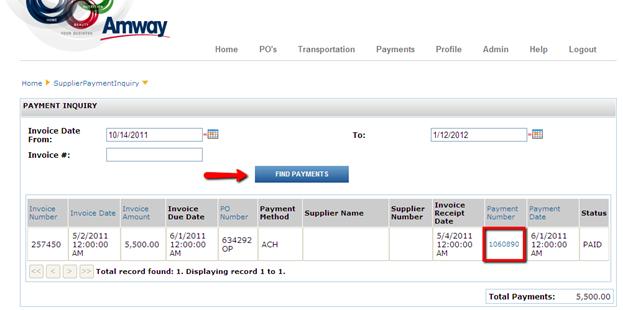 To view more details regarding the invoice, select the payment number link.
In the Payment Details, all information regarding the payments on this invoice will be displayed
The payment method can vary from ACH, Wire Transfer, or Check.
The Payment Amount is the total of all payments displayed.
Invoice Status Reference
| | |
| --- | --- |
| New | Invoice Received |
| In Process | AP Reviewing |
| In Approval | Waiting for Amway Contact Approval |
| Receipt | Product Receiving Review |
| Price Issue | Price/Additional Charge Review |
| QA Issue | In QA Inspection |
| Pending Payment | Approved Invoice, Future Payment Date |
| Paid | Payment Issued |
| Contact AP | No Invoice Detail Available |